Desert Hills Lutheran Church is fortunate to have a staff of skilled and caring individuals who assist the congregation and handle the day-to-day operations. In addition, DHLC is led by our Congregational Council, which consists of nine members elected by the congregation. Each council member serves a three-year term, and terms are arranged so that the terms of one-third of the members expire annually.
Back to Staff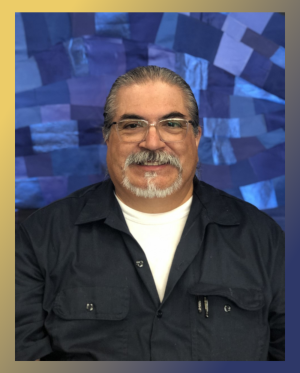 Mark Soto
Part Time Custodian
STAFF HIGHLIGHT: MARK SOTO (You have the photo. Include on website.)
Mark Soto joined the DHLC staff as a part-time custodian in September of 2022. Mark has jumped into his duties helping to keep everything in the church building clean, orderly, and prepared for all the various meetings and activities. He is enjoying "meeting and talking to everyone." Mark is a graduate of Sahuaro High School in east Tucson, worked for Pima County Animal Control, and retired from Maricopa County Animal Control.
Mark and his wife, Linda, have a son, Christopher, two English Mastiffs, Rose and Beuatrix, and one small terrier mix. He enjoys watching movies, thrifting, gardening, watching football, and traveling.
Please be sure to welcome Mark when you see him during a visit to the church.