At the special congregational meeting on Sunday, September 11, the congregation voted unanimously to accept the recommendation of the Call Committee and the council to call Pastor Craig Larson to DHLC as the associate pastor.
PASTOR CRAIG LARSON,

NEW ASSOCIATE PASTOR

He will be joining us around the end of October.
Desert Hills Lutheran Church's Congregation Council and Associate Pastor Call Committee are excited to introduce their candidate for DHLC's Associate Pastor, Pastor Craig Larson. Pastor Larson was born in Minot, North Dakota; graduated from Concordia College in Moorhead, MN; and attended Luther Northwestern Seminary (now Luther Seminary) in St. Paul, MN. He was part of the first ELCA graduating class in 1988. Pastor Larson's first call was to a two-point parish in North Dakota, St. Olaf of Rural Turtle Lake and Our Saviors of Mercer. He served there for five years. Listening to God's call, he came to Arizona to serve at Mount Olive Lutheran Church in Lake Havasu City for eight years. Pastor Larson was then called to be a Mission Redeveloper of Trinity Lutheran Church in southeast Tucson for five years. He has currently been serving for the last 15 years at Mount Zion Lutheran Church in west Tucson.
Pastor Larson and his wife, Suzanne, are looking forward to joining Desert Hills Lutheran Church and getting to know the congregation. They have been married for over 16 wonderful years and have resided in the Tucson area together. They have two daughters who also call Arizona home which allows for a short drive to visit. Their oldest daughter, Andria, and her husband, Thomas, live in Mesa with granddaughters, Paige and Natalie. Pastor Larson always has fun spending time with them, and the little ones keep him on his toes. Pastor Larson and Suzanne enjoy vintage shopping with their youngest daughter, Monica. Monica keeps them busy with home improvement projects at her home in central Phoenix.
In their down time, Pastor Larson and Suzanne enjoy road trips through the Southwest and discovering the best local spots in each town that they visit. His mom and sisters still live in North Dakota along with their families. When he visits home, they enjoy the North Dakota State Fair, and every few years, they travel to Minot for the Scandinavian Festival, Hostfest. Pastor Larson is a lifetime Minnesota Vikings fan. (Some years are easier to be a fan than others.)
Pastor Larson looks "forward to us all continuing our faith journey and looking for the adventures that await us in serving our Lord!"
UPDATED SPECIAL MESSAGE FROM THE CONGREGATION COUNCIL
On August 23, the Call Committee presented their recommendation of the candidate for the associate pastor to the council. Their recommendation was unanimously and joyfully accepted and endorsed. There will be a special congregation meeting for voting members on Sunday, September 11 at 9:00 am to vote whether to call Pastor Craig Larson as recommended by the Call Committee and council.
Since the only agenda item is the vote to call an associate pastor, the meeting will be conducted after the 8 am service and before the 9:30 service in the Fellowship Hall.
ASSOCIATE PASTOR SEARCH UPDATE
August
With joyful hearts, a unanimous decision was made by the Associate Pastor Call Committee on August 16 to present the chosen candidate to the Congregation Council at their Tuesday, August 23 meeting.
Throughout this process, they felt the guidance of the Holy Spirit in addition to the prayerful support of all those who entrusted them with this sacred privilege. They are truly grateful for both.
July
The Associate Pastor Call Committee met on Thursday, July 21, 2022. First round interviews were conducted with candidates vetted by the Grand Canyon Synod. A decision took place about who to invite back for second round interviews in August. The committee asks for continued prayers as they move through the process of selecting the best candidate for Desert Hills Lutheran Church.
June
The Associate Pastor Call Committee met on Thursday, June 23, and discussed their understanding of the call, the call process, and what DHLC was seeking in the associate pastor candidate. Based upon this fruitful discussion, a list of interview questions was created to be used during the first round of interviews. A list of candidates is expected from the Grand Canyon Synod in July, and with God's guidance, first rounds of interviews will take place by the end of July. As with the confidentiality of the senior pastor search, the call committee is not at liberty to discuss any details of the individual candidates being considered, but updates will be shared as the process progresses. Please keep the call committee in your prayers as this important work in the life of the congregation is pursued.
---
Desert Hills Lutheran Church is seeking to call a full-time, Evangelical Lutheran Church in America associate pastor. To learn more about the congregation, please review the Ministry Site Profile.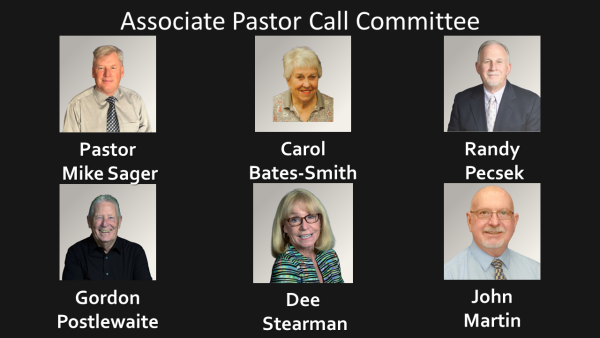 The vote to approve was unanimous!
On Sunday, May 22 at the Special Congregation Meeting in Fellowship Hall at 10:30 am, the Associate Pastor Call Committee slate was approved by those members present.