Bible Studies
Basic Bible Class (BBC)

is a neighborhood Bible class.
La Posada Bible Study meets the third Monday of each month at 10 am at La Posada and is led by Pastor Barb Rapp.
Men's Bible Study meets Thursdays at 1 pm (Sept-June) at DHLC.
Sermon Discussion Groups are small group discussions based on the previous weekend's sermons and set in a relaxed setting.
Weekly Bible Fellowship meets on Wednesdays at 9:30 am and 5 pm in the Fellowship Hall.
Women's Bible Study meets the first Monday of each month at 9 am for Bible study and coffee fellowship.
Education Committee
Organizes and conducts a variety of educational opportunities for the congregation.
Library (Erickson) Committee
Updates, circulates and maintains a collection of books, multiple types of electronic media, and reference materials for the DHLC community as an educational service through both an in-house and online presence.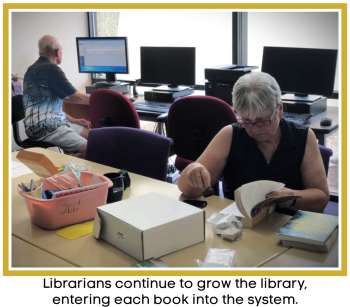 Men's Ministry
Holds Bible studies, monthly breakfasts, book clubs, and photography gatherings.
Bookmen is a men's book discussion group that meets every Wednesday at 7:45 am for fellowship and book discussion in the library.
Men's Breakfast is a men's fellowship group that meets the fourth Thursday of the month at 8:30 am for breakfast and a guest speaker.
Men's Coffee meets Mondays weekly (Oct-Apr) at 8:30 am, except the third Monday, when they meet at 8 am for fellowship.
Men's Photography meets the first Monday of each month (Sept-May) at 1 pm. The group selects a Bible-based theme each month and brings photographs that fit the theme to share with the group. The group discusses photography related topics. Those having an interest in photography are welcome to attend, enjoy the show and participate in the conversation.
New Member Classes
Acquaints prospective members with the Lutheran doctrine and culture of DHLC. Classes take place four times each year at 9:30 am and conclude with a brunch celebration and recognition during a weekend service.
Women's Ministries
Plans and conducts Bible studies, monthly luncheons, Fall Boutique and Café, annual retreat, other spiritual growth opportunities, and mission activities for the women of the congregation. Women's Ministries is a unit of Women of the ELCA (WELCA), Grand Canyon Synod.
Memorial Ministry makes and serves refreshments for after memorial services held at DHLC.
Women's Board plans for luncheon speakers, mission activities and other events involving WELCA. Meetings are the first Monday of the month at 11 am.
Women's Luncheon serves lunches and enjoys a program on the second Monday of the month at 11:30 am.