Global Mission Team
Works to raise awareness of world-wide missions, to respond to God's call to serve and send workers, to raise awareness of world needs, and to respond prayerfully and financially. DHLC supports five missionary families in five countries and the Young Adult in Global Mission program each year. The team annually holds Christmas in July and Good Gifts in December fundraisers at the church. The team also assists Lutheran Disaster Relief and ELCA Word Hunger. Meetings are held the first Friday of each month at 1 pm.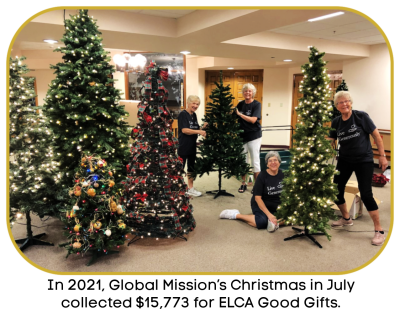 Social Concerns Ministry
Plans and implements programs of support for high-need individuals and agencies. Meetings are the second Thursday of each month at 9 am.
Community Partners
Community Food Bank
Volunteers assist with packing and sorting, gardening and farming, distributing food, cleaning, maintenance, professional and administrative work, and special events.
Contact: communityfoodbank.org/Volunteer-Opportunities, (520) 625-5252
Crossroads Nogales Mission


Serves lunch and provides general assistance, supplies, and a food panty for the homeless or less fortunate in Nogales, AZ.


Contact: (520) 287-5828,
Habitat for Humanity
Helps families build and improve places to call home.
Contact: habitattucson.org, (520) 326-1217
Lutheran Campus Ministry
Brings UofA students together for faith, community, service, travel, and fun. They provide Wednesday meals and services for spiritual growth and trustworthy friendships.
Contact: lcmuofa.org, (520) 623-7575,
Lutheran Social Services of the Southwest
Stabilizes people during crisis and transition, builds a foundation where people can thrive, and preserves dignity and respect for the most vulnerable, through pre-arrival housing, case management, employment support, immigration services, and mentorships. Volunteer opportunities are varied.
Contact: lss-sw.org, (520) 748-2300,
Primavera Foundation
Provides pathways out of poverty through safe, affordable housing, workforce development, and neighborhood revitalization. Volunteers work in direct contact with program participants, behind the scenes, on a meal team, in community gardens, or in events and special projects.
Contact: primavera.org, (520) 308-3110
Red Cross
Educates through health and safety training, draws and distributes blood, and assists with disaster relief. Volunteer opportunities include behind the scenes, boots on the ground, communication, instruction, and leadership.
Contact: redcross.org, (520) 318-6740
St. Andrew's Children's Clinic
Provides free medical treatment for disabled children of impoverished parents from Mexico, using medical and lay volunteers from both sides of the border.
Contact: standrewsclinic.org, (520) 648-3242,
Sahuarita Food Bank
Confronts poverty by offering programs designed to provide fresh and nutritious food to those most at risk, including emergency food boxes, market days, backpack programs, seasonal produce, and community pantries.
Contact: sahuaritafoodbank.org, (520) 625-1375
Salvation Army
Provides spiritual and emotional support to the community and surrounding areas. Volunteers serve as bell ringers, kitchen and clerical workers, members of the auxiliary groups and advisory organizations, and in special functions when disasters strike.
Contact: salvationarmytucson.org/green-valley-service-center, (520) 625-3888
Valley Assistance Services
Provides professional case management, referrals and volunteer support to frail seniors and the disabled using Green Valley Interfaith Volunteer Corp. They also assist low income families with back-to-school, Thanksgiving, and holiday needs.
Contact: valleyassistanceservices.org, (520) 625-5966